Dental Bridge in Athens, AL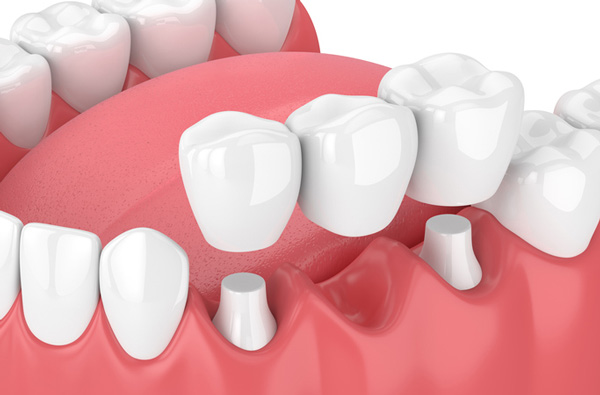 Missing teeth create a gap. You can use a dental bridge to replace your missing teeth. A dental bridge improves the appearance of your smile. After you receive a dental bridge at Singing River Dentistry, you will no longer have to hide your smile. Even if you have just one missing or a lost tooth that people cannot see, filling the gap helps prevent future chewing problems. Additionally, when a tooth is missing, you may find other teeth drifting out of place, leading to bite misalignment and jaw problems.


What is a Dental Bridge?

Think of a dental bridge as an architectural road bridge, which covers a gap between two edges or places. Therefore, tooth-supported bridges work to replace multiple adjacent teeth. A dental bridge is a fixed oral appliance prepared by adjoining a single, or multiple, artificial teeth and affixing two crowns on both sides. The crowns are secured on the natural teeth on the sides, providing support and retention to your dental bridge.


Do I Need a Dental Bridge?

People seeking replacement of lost or missing teeth can benefit from a dental bridge. You may be a candidate for a bridge if you want to replace multiple teeth or even one missing tooth. If dentures in your mouth feel uncomfortable or they create hindrances while speaking and eating, you can opt for a tooth-supported bridge. Replacing your dentures with dental bridges helps eliminate these problems.

People seeking full mouth rehabilitation can also take advantage of dental bridges. Implant-supported dental bridges are an excellent dental restoration option when a patient needs full mouth rehabilitation. A dentist can place two bridges in both the upper and lower jaw to replace all missing teeth. If you are seeking cosmetic teeth rehabilitation, dental bridges can provide good cosmetic results.


Dental Bridge Installation Procedure

Preparing tooth-supported bridges may require about two or three visits to our office. We first begin with a dental exam. A detailed examination of the mouth helps ensure that dental bridges work to resolve your problem. Our dentist also evaluates your dental and medical records to ensure you are a candidate for these restorations. Next, we prepare the adjacent teeth. We do this by slightly removing the structure of those teeth to allow the bridge to be attached to them. Our dentist may place you under anesthesia to ensure the procedure goes smoothly and without discomfort.

Next, we will make an impression, or mold, of your teeth. The mold aids with the fabrication of your prosthesis. Our dentist will also record and provide the color and shade of the adjacent natural teeth to allow the lab technicians to make the bridge to match the color of your natural teeth. You will get a temporary prosthesis to cover and protect the shaved-down teeth for the period the final dental bridge is being prepared. You will return to our office about two weeks later to have the final bridge permanently attached. Our dentist will use adhesive cement to permanently cement the bridge to your natural teeth.

Visit us Singing River Dentistry to allow our team to determine if dental bridges are a solution for the replacement of your missing teeth. Contact us at (256) 293-5393 to schedule your appointment.