Invisalign Athens AL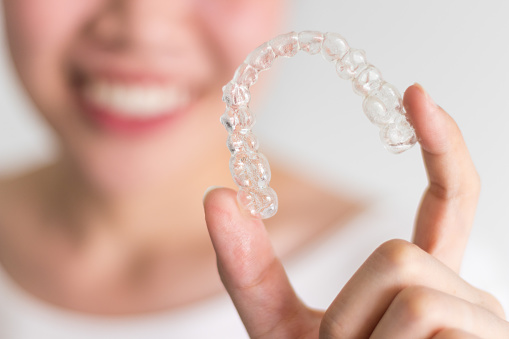 If you want straight teeth and a discreet transformation, then Invisalign aligners are a viable option. They are an orthodontic alternative to regular metal braces.

Straightening teeth allows you to regain your lost smile and improve your oral health. Straighter teeth are easier to brush and keep clean.

Patients coming to us at Singing River Dentistry want to know if Invisalign treatment can help align teeth and improve bite functionality and look.

Here, we tell our Athens, AL patients that Invisalign is a great solution for resolving malocclusions - like overbites and underbites. Clear aligners are a preferred choice over conventional wire braces because they do not have wires that can irritate gums and they work discreetly.


Should I Get Invisalign?

Here are some things to consider about Invisalign and whether it's right for you:


| | |
| --- | --- |
| • | First, our dentists and team will do an exam to make sure there are no active cavities or gum disease. Otherwise, you may need to get restorative treatment to address those issues before proceeding with Invisalign. |
| • | Another potential issue is when you have dental implants, TMJ issues, or dental bridges because they can make the Invisalign aligner fail to fit properly. |
| • | Dr. Watkins recommends Invisalign for older teenagers and adults. The reason is that the teeth may still be developing in young patients. |
| • | Invisalign aligners can treat crowded teeth, teeth gaps, underbite, crossbite, overbite, protruding teeth, and twisted or crooked teeth. |
The Invisalign Process

The Invisalign teeth straightening process involves many aspects.

First, there is the consultation where the dentist reviews your oral health. Dr. Watkins checks the malocclusion issues, such as the type of gaps you might have in your teeth, as well as crowding.

Next, we take 3D mouth images and place your teeth model on a computer screen where we look at the jaw from various angles. We use the details we obtained from the 3D images to customize your treatment plan from start to finish.


How Long Does Invisalign Take?

A common question patients have is "How long do I have to wear Invisalign?" The truth is that all patients have their own treatment timelines. However, there are some rules that appear to be standard across the board.

You should wear the aligners for the most part of the day, about 20 to 22 hours.

This means you are removing the aligners only for cleanings and meals.

You also want to switch the trays out every two weeks, or as our dentist instructs, in order to allow certain teeth to be moved at particular times - until all teeth are in alignment.

You need to visit Singing River Dentistry every six to eight weeks for a checkup. The inspection of your aligners helps us to see if they are working properly. You also collect your next series of trays during your checkup appointments.

It may take a year or more to complete the treatment.

The duration depends on the amount of shifting that is needed for the teeth and how strictly you adhere to wearing your aligners.

After treatment, you have to maintain your new alignment by wearing retainers.


Get Invisalign in Athens Today!

Do not let crooked, overcrowded, or protruding teeth steal away your smile. Contact our Invisalign team at Singing River Dentistry to evaluate you for these restorations. Call us at (256) 293-5393 to request a consultation.