Dental Crown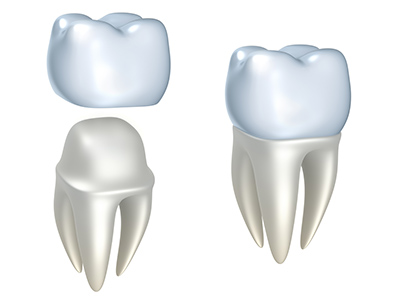 Restoring teeth that have become damaged, infected, or fallen out is extremely important to prevent complications. Dental crowns are one of the options our dentist at Singing River Dentistry employs to restore a damaged or infected tooth. We complete the procedure in such a way that it leaves a natural look while resolving oral health concerns. This way, you regain the function of your teeth as well as the ability to display the appearance of dental work.


What are Dental Crowns?

Crowns are cap-like restorations that surround a tooth. Our dental clinic uses crowns to restore your tooth. We may also use these restorations to enhance the appearance of your smile. Crowns are made up of different materials, including all-ceramic, ceramic-on-metal, and all-metal. The location where a crown will be fitted can help determine the material to be used. For instance, if we are fitting crowns on the front teeth, we can use all-ceramic material since it offers a more natural look. Patients often prefer ceramic-on-metal crowns because they appear natural and have increased durability.


Dental Crown Installation Procedure

We use sedation dentistry when installing dental crowns to keep our patients comfortable. Before we get started, we obtain an impression of your teeth to allow the new crown to be created in a laboratory. Our dentist starts by prepping the tooth. The dentist removes some portion of the protective outer layer of enamel in order to allow room for the crown to fit properly without pushing the adjacent teeth out of place.

After completing the preparation, we clean the tooth. We then secure a short-term crown with glue. You will wear this temporary crown for about two weeks. During this time, we will make the final crowns in the lab. Ensure you are cautious not to damage or let the temporary crowns come off since they are not permanently affixed. Thus, watch out for what you eat or do with your teeth.

Once we complete fabricating the restoration, we will book you for another appointment. In the second appointment, we will take out the short-term crowns and fit the permanent one to your tooth. We will place the cap around your tooth and finish the procedure by doing dental bonding.


After the Procedure

Your teeth will be a bit sensitive after preparing the surfaces for fitting the crowns. That is why we temporarily install crowns while you wait to have the final ones to be ready. Dental crowns serve the purpose of natural teeth, therefore, you should ensure they remain clean along with other teeth. Practice proper oral hygiene, meaning brushing and flossing regularly. Avoid chewing hard foods since they may damage the crowns. Be sure to come to our office regularly for checkups.


How Long Do Crowns Last?

Dental crowns can serve you for several years or even decades. They typically last from five to 20 years. If they fracture, you need to get the restorations replaced. Excessive wear of crowns may also necessitate replacement. If there are opposing teeth or recurrent tooth decay, you may want to replace your crowns.

Contact our team by calling (256) 293-5393 to set up an appointment in our dental office or visit us at Singing River Dentistry.