Dental Veneers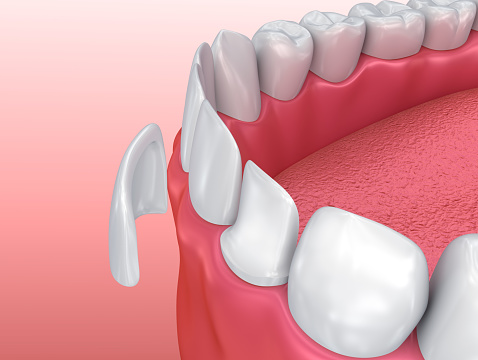 Everyone seeks to have their teeth look bright and beautiful. However, our lifestyles and other factors like aging and genetics can cause our teeth to look unsightly, especially when they get stained or discolored. A dentist can conduct professional teeth bleaching to get rid of the stain blemishes. However, there are times when the stains are just too stubborn to respond to whitening treatment. In such cases, our dentist at Singing River Dentistry can consider correcting the problem with restorations such as veneers. Dental veneers are attached over the teeth to cover them and mask the blemishes.


What are Dental Veneers?

A veneer is a very thin mold custom-designed to be placed over your teeth. It can be made of porcelain material or composite resin. A dentist inserts the veneers over the tooth to cover the front side. The dentist bonds the veneers onto the tooth, creating an aesthetically pleasing smile. Veneers are versatile restorations, they can be used to address various issues in teeth. Dentists can use veneers to mask or cover unattractive gaps in teeth. These restorations can also cover stains or teeth discolorations. Additionally, veneers help conceal misshapen and crooked teeth. Once you receive them, you will love the dramatic transformation they deliver to your smile.


Veneer Procedure

We begin the treatment with digital impressions. Taking digital molds of the teeth helps with the process of fabricating your veneer pieces. We custom-make the teeth restorations so that they provide a comfortable fit. Once the design of the veneers is complete, they are color-tinted so that they assume the color and shade of the surrounding teeth. They may also be tinted to achieve your aesthetic preference. Our dentist attaches the veneers to the problem tooth using durable dental cement.

While the final veneers are being prepared, our dentist can give you short-term ones that protect the teeth. It may take a week or so to get the final veneer fabrication completed. You will then make a trip to see our dentist so that your damaged tooth is concealed with the healthy-looking veneers. This way, you have a tooth with a rejuvenated appearance.


Benefits of Veneers

You can expect your natural teeth to become yellow, darken, and fade over time, but veneers will not. Porcelain veneers remain as white and beautiful as the day a dentist installed them. Another thing about porcelain veneers is that they can match almost any tooth color, shape, and even contours. Our dental office can make porcelain veneers of any shape and size. We customize each veneer to work particularly for your case.

What is even better, your dental routine does not change. With porcelain veneers, you brush, floss, and use your mouthwash as you normally would. By receiving veneers, you are able to forgo orthodontic treatment like braces. Dental veneers cover teeth surfaces in the front, so they are able to mask stains, chips, and other imperfections. When prepping a tooth for veneers, our dentist only shaves down a little top layer or surface of the tooth.

Resolve your dental imperfections with the use of porcelain veneers. Visit us at Singing River Dentistry for an evaluation and let our dentist determine if veneers are an option for you. Contact us at (256) 293-5393 to schedule an appointment.