Sports Mouthguards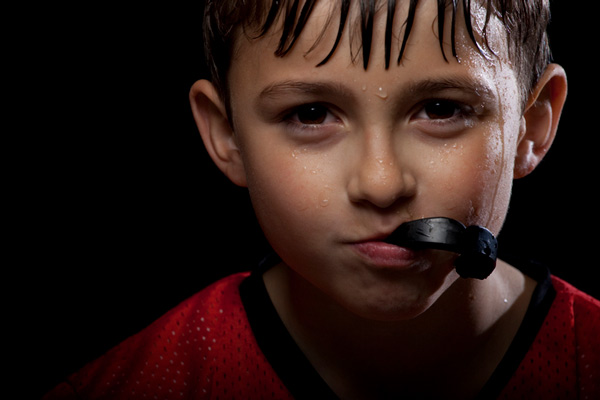 A mouthguard for sports is a thick rubbery shield that athletes and active people wear over their teeth to provide protection to the jaws, teeth, and face. During sports activities, injuries can occur when there is an impact on the face. Our team at Singing River Dentistry constructs custom-fitted mouthguards to help you prevent mouth injuries. Every year thousands of people, including adults and kids, are treated for injuries of the mouth arising during sports that might have been prevented by just wearing a mouth protector.


Who Needs to Wear a Mouthguard for Sports?

The ADA recommends the use of mouth protectors like a mouthguard during any sports or activities likely to cause contact to or collision with the face. Both contact and non-contact sports can result in dental injuries. Contact sports include rugby, hockey, martial arts, and boxing. Non-contact sports include basketball, cricket, touch football, netball, skating, and soccer. All of these can result in an accidental collision. If you participate in these sports, you should consider wearing a mouthguard as part of your gear regardless of your age or experience.


Benefits of a Mouthguard for Sports

A mouthguard protects against injury to the jaw joint. When there is an impact on the face that affects the jaw joint, it can contribute to pain or difficulties opening and closing the mouth. A mouth protector can prevent such injuries. Moreover, wearing mouthguards helps offer protection against injuries to the soft tissue. You may cut your tongue, lips, and other soft tissue inside the mouth when you collide during sports.

Another benefit that sports mouthguards provide is the prevention of damage to the teeth. Sports injuries can cause dental trauma such as damage to the tooth nerve, fractured, cracked, chipped, or knocked-out teeth. You may also suffer a broken or fractured jaw. It is common for soft tissue cuts or damage to occur while playing games and sports. The tongue and lips may also suffer damage or cuts due to the impact of collision or trauma. Severe dental trauma may even lead to a lifetime of dental treatment and expenses.


Types of Sports Mouthguards

The basic types of sports mouthguards include stock, boil and bite, and custom-made. Stock mouthguards are sold in stores and are pre-formed, meaning ready-made. As a result, they may not fit well. Therefore, their effectiveness is reduced. Boil and bite are also available in pharmacies and sporting goods stores. These pre-formed mouthguards fit a little better because the user has to boil them and then insert them into the mouth where they form. The type of sports mouthguard we recommend is the custom-fitted piece. Mouthguards that are custom-fabricated offer the best protection. Our dental clinic constructs customized mouthguards for sports.

Many sports involve the risk of contact, therefore, serious dental injuries can occur. Such types of injuries are difficult to treat and could lead to lifetime expenses. Prevention is better than cure. Therefore, you need to play it safe by wearing a customized mouthguard for sports. The cost of obtaining custom-fitted mouthguards is considered a good instance against the potential costs brought about by a serious dental sports injury.

Visit us at Singing River Dentistry to get a custom-fabricated mouthguard. Call us at (256) 293-5393 to book an appointment.