Inlays & Onlays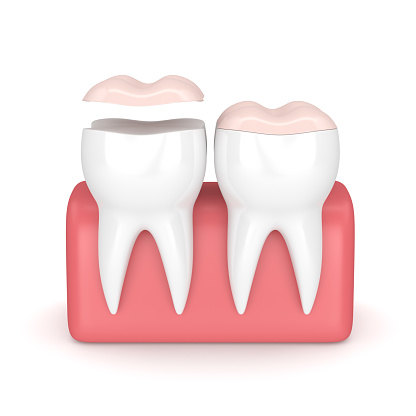 A dentist may use an inlay or onlay when more than half the surface of the tooth is damaged. A damaged, decayed, or infected tooth can present many complications. The damage can worsen, often weakening the tooth, meaning that you need to get restorations like dental crowns to hold it together and improve its strength. A decayed tooth can continue decaying, leading to more damage to the tooth or even the pulp in the root, hence necessitating a root canal. Our dental specialists at Singing River Dentistry can, however, place inlays and onlays to offer protection to the tooth and prevent additional damage.


What is a Dental Inlay and Onlay?

Inlays and onlays may be fabricated of composite resin, gold, porcelain or ceramic, or other materials. A dentist bonds inlays and onlays to damaged areas of teeth. An inlay is similar to dental fillings and is placed inside the tips of cusps in a tooth. Cusps are the elevated structures or features of teeth, especially the back teeth and middle teeth like canines. They provide more surface for chewing on a tooth and aid with grinding food. An onlay is a bit substantial in reconstruction and similar to the inlay. However, it extends out over several or just one cusp of a tooth.

In the past, gold was the standard material of choice for fabricating onlays and inlays. However, in recent years, ceramic or porcelain has become more popular because of its strength and color. It is able to potentially match the color of real teeth, hence improving or restoring the natural look of the tooth.


Inlay and Onlay Procedure

You will need two appointments to have your inlay or onlay procedure completed. When you come in for the first appointment, our dentist will remove the filling that needs to be replaced or the decaying and damaged area of the tooth. The dentist will then prepare the tooth onlay or inlay application. To ensure correct fit and bite, we will make an impression or mold of your tooth that we take to a laboratory to get the restoration fabricated. We then apply a short-term sealant on your tooth and then schedule you for the final onlay or inlay application.

On the second visit, we will remove the shorter-term sealant and apply the inlay or onlay, making sure they fit properly. If the fit is not good, we will make adjustments. If it is okay and satisfactory, we will bond it to the tooth using a strong resin material. Our dentist then polishes the tooth to give it a smooth finish.


Aftercare Tips for Inlays and Onlays

Once you receive inlays or onlays, you may take a couple of days to recover. Your teeth, however, can still be attacked by bacteria and plaque. It is crucial to observe good oral hygiene so that the restorations remain clean and in good shape. Pay attention to the interdental spaces because they may be difficult to clean and often serve as hiding grounds for bacteria, food debris, and plaque. You also need to minimize sugar intake once you get onlays or inlays.

Find out more about these restorations by visiting our team at Singing River Dentistry. Call us at (256) 293-5393 to request an appointment.