Root Canals in Athens, AL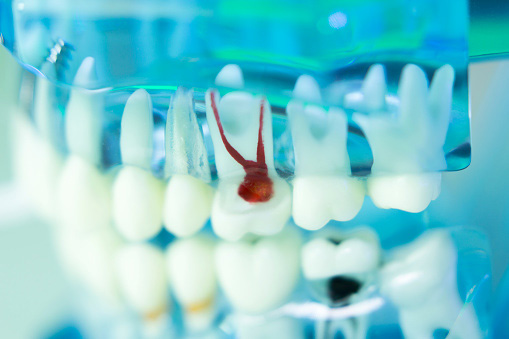 If a dentist tells you that you need root canal therapy, know that something bad has happened to the pulp of your tooth. The pulp may have been infected or it may have been damaged from trauma and inflamed. Our dentist at Singing River Dentistry will inspect your mouth and tooth, including taking x-rays to get a clear picture of the nature of infection or damage before recommending root canal therapy.


Signs You Require a Root Canal Treatment

Only a dentist can determine if you require completing root canal therapy. A dentist performs an inspection and exam, which aids in making the decision for a root canal treatment. However, there are some symptoms that may point toward needing a root canal. If you are experiencing severe pain during the time you are chewing or biting, it could mean infection or inflammation in the pulp region. A chipped or cracked tooth may necessitate a root canal. Swollen or tender gums, pimples on the gums or abscessed gums, a sensitivity that does not go away even after removing the sensation, or deep decay are all possible signs of root canal therapy.


The Root Canal Procedure

A dentist can complete a root canal in one or two appointments. Once you come to our dentist, we examine your mouth and take x-rays. Our dentist administers anesthetics, which allows you to remain comfortable. A dental dam is placed over the area so that it isolates the tooth being treated. The dental dam keeps the tooth clean and ensures that saliva does not get to the tooth during the root canal therapy.

Next, our dentist accesses the pulp by making an incision or opening in the crown. Once the pulp is accessed, it is cleaned and shaped for filling. The dentist uses a filling material known as gutta-percha to fill the root canals. The dentist uses adhesive cement to place the filling material or gutta-percha so that it seals the root canals completely. The reason is to ensure that nothing is able to penetrate or leak into the canals. When the root canal is done, you can come later to get a crown or other types of restorations to protect the fillings and the tooth. You will discuss any procedures you may need after root canal therapy such as dental crowning.


Aftercare Tips for Root Canal Treatment

Unless our dentist tells you otherwise, you should brush and floss normally after you get root canal therapy. Try to eat foods that cannot damage the filling. You can have soft foods because they do not require heavy chewing, for example, fish, eggs, applesauce, and yogurt. Hot and hard foods should also be avoided since they may hurt the teeth immediately after you have the procedure. The numbing agents take time to wear off. If you eat too soon, you may not be sensitive to hot and hard things. As such, you could injure your mouth or burn the tissue. Visit our dentist regularly for routine checkups and exams.

Find out about root canal treatment and when it is needed. Visit us at Singing River Dentistry or call (256) 293-5393 to set up an appointment.