Tooth Extraction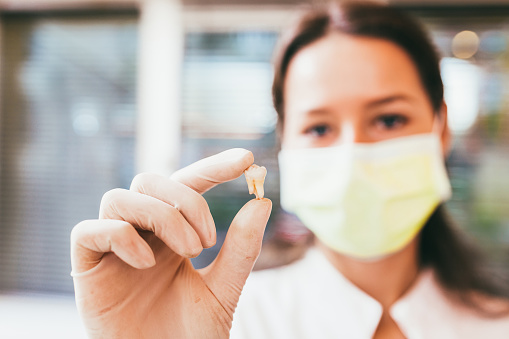 No one wants to have their tooth removed unless it is completely necessary and beneficial. At Singing River Dentistry, we are not after extracting every tooth that we find damaged or infected, we will first try to determine if there are more conservative ways to save a tooth. If possible, we just clean the damaged, infected, or decayed tooth and fill up the hollow with suitable material and then place dental crowns to shield it from the damaging bacteria plaque, mouth acids, and debris. We can even install veneers to restore it. However, there are times when these conservative treatments cannot resolve the problems. In that case, extraction becomes the only option.


When is Extraction Required?

If you have a dental infection, a trip to our office will likely result in an extraction. An infection may have spread to a point where you have intense discomfort that makes it hard to chew, bite down, or attend to your daily activities. Extracting the tooth can eliminate the infection quickly before it risks attacking other healthy teeth. If you had an accident that injured your teeth, you may get them restored with dental bonding, crowns, or veneers. If these do not seem to work or the problem is urgent, then we may resort to tooth extraction.


The Extraction Process

Almost all tooth extractions are done in two ways. Our dentist will determine what method to use. If your tooth is straight and visible in the mouth, our dentist uses what we call a simple extraction. Typically, the dentist rocks the tooth with an extraction elevator to make it lose. The dentist then gently and swiftly pulls the tooth out with extraction forceps. The process is done fairly quickly. Thereafter, the area is cleaned and the dentist places gauze on the gums that you bite to stop the bleeding.

The other method of extracting a tooth is surgical extraction. It is most appropriate when your tooth has not come in. An impacted tooth will need to be accessed by the dentist in order to remove it. Since it is buried in the soft gum tissue, the dentist performs a cut procedure on the gums. Cutting open the gum tissue allows full access to the impacted tooth. The dentist then uses forceps to pull the tooth out. Sometimes, a dentist may have to pull a tooth bit by bit if it shatters. Once removed, the dentist cleans the site, replaces the gum flap, and stitches the wound. You then bite on gauze to prevent bleeding.


Aftercare Tips for Tooth Extraction

Follow the dental instructions that our dentist offers you regarding your oral care. Our dentist will advise that you eat soft foods. Until the numbing agent wears off, consume only fluids. After that, limit your diet to food that cannot hurt the site of operation. Avoid brushing the teeth near the site in the first 24 hours. You can, however, brush the other teeth. Return to your regular oral routine two days after.

If you find yourself needing a tooth extraction, with Singing River Dentistry you are in good hands. Talk to us today and learn what tooth extractions involve. Dial (256) 293-5393 to set up an appointment.