Teeth Cleaning Athens AL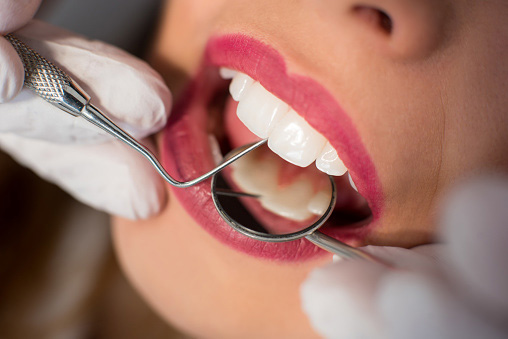 The American Dental Association recommends that people visit the dentist twice a year, meaning once every six months for check-ups and mouth cleaning.

During these regular visits to our Athens, AL office, one of our dentists performs an exam and cleans the teeth. Dental cleanings are a pretty crucial part of regular exams. Our Singing River Dentistry team evaluates your gums and teeth and removes excess plaque and tartar.

Because bacteria thrive in the plaque and tartar, when these elements are removed, large amounts of bacteria are also gotten rid of in the cleaning process. While twice-a-year cleanings clear the teeth and gums of bacteria, plaque, and leftover food particles, it is not enough to remove tartar.


Dental Cleanings

Teeth cleanings are also called "Prophylaxis" or "dental cleanings." Even when your teeth and gums are healthy you need to clean them. Bacterial plaque is constantly forming in the mouth, so cleaning your mouth is something you have to do every day. When you fail to clean and floss as required, you risk having dental infections like gum disease or cavities.

Prophylaxis dental cleanings are a preventive dentistry procedure. They prevent the teeth from getting cavities and the gums from getting gum disease.

A dentist uses a tool known as a dental scaler to clean the surfaces of the teeth, including the sides, back, as well as the front. The dentist may also use water jets to wash away bacteria, food leftovers, and plaque. Prophylaxis cleaning is what many patients with healthy teeth and gums require. It may be performed twice a year.


Scaling and Root Planing

Patients with gum diseases such as gingivitis and periodontitis need a more comprehensive mouth cleaning process. Scaling and root planing are part of the periodontal maintenance procedures that we offer in Athens. Scaling and root planing remove plaque and tartar that have accumulated on the surfaces of teeth and inside the gum pockets in areas below the gumline.

Gum disease is a major culprit of receding or detaching gum tissue, which leads to increased gum pocket depths. As such, the increasing depth of pockets creates ideal places for plaque and bacteria to hide. Tartar may also form in teeth surfaces inside those pockets.

Root planing helps smooth out the teeth surfaces, eradicating tooth crevices and rough areas where bacteria and plaque could easily form.

Our dentist may perform scaling and root planing as part of a periodontal maintenance program. Once you have treatment for periodontitis, you need regular cleanings to make sure that the infection does not reoccur. Periodontal maintenance cleanings are done more frequently. You can have them every three to four months.


Debridement Cleaning

If you have problems keeping up with your oral care regimen or you consistently avoid visiting a dentist for cleanings and exams, you may require gross debridement cleaning. The reason is that due to these habits, you may have dental plaque that has hardened to form the hard-to-remove tartar.

A dentist uses an electrical tool to loosen hardened plaque or tartar, after which a prophylaxis cleaning follows to clean your teeth.


Schedule a Cleaning with Our Athens Dentists Today!

Set an appointment with us at Singing River Dentistry. After examining your gums and teeth, we will determine what kind of dental cleaning procedure to provide. Call us at (256) 293-5393 today!