Dental Implant Athens AL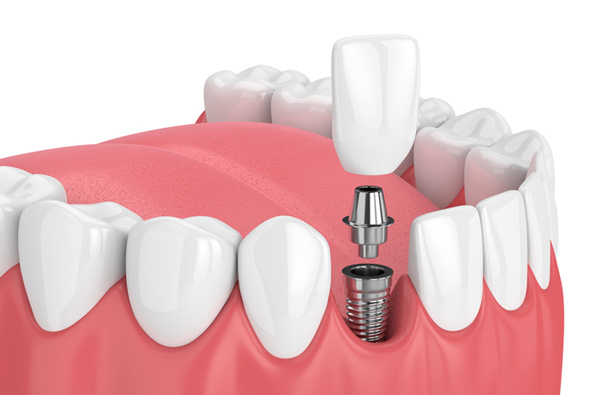 Most dentists suggest dental implants when patients need to have a replacement for their lost teeth.

These permanent prostheses use metal screws to anchor an artificial restoration - such as a dental bridge, a dental crown, or dentures.

When you visit us at Singing River Dentistry in Athens, we will first evaluate your oral health and make sure that you are a suitable candidate for receiving dental implants.

A thorough assessment ensures proper fit and retention of dental implants. Dr. Stephen Watkins will assess your oral care habits and lifestyle to see if there are things that could compromise the success of dental implants.


What Are Dental Implants?

A dental implant procedure is a tooth replacement solution. An implant is a metal screw made of titanium material and it replaces the tooth root. Dentists use the implant screw to anchor or secure artificial teeth such as crowns, dentures, and bridges.

Learn More About Crowns
Learn More About Dentures
Learn More About Bridges


What Happens During a Dental Implant Procedure?

Installing dental implants takes several months. It is a process that requires several steps to complete.


| | |
| --- | --- |
| • | The first part of the procedure involves a tooth extraction if it has to be done. Bone graft material, along with a membrane, is applied to the extraction site to ensure enough bone is present when the time for implant placement arrives. If extraction is done, you'll need to wait for three or so months before the placement of the implants. |
| • | Next is the implant placement. Dr. Stephen Watkins will drill holes in the jawbone where the titanium screw implants go in. The dentist inserts the titanium implant screws into the jawbone within the areas where a tooth is missing. It will take an additional healing time of three months for the implant site to heal. In the meantime, patients get temporary teeth. |
| • | After three months, you will come back for the final restoration. The dentist will take molds of the teeth. Scanning of the mouth may also be done. The models or 3D scans will be taken to a dental lab for the construction of the restorations. |
| • | You come back a few weeks later to receive the abutments, or connector pieces, and the permanent attachment of the implant. The dentist will then attach the permanent crown, bridge, or dentures |
.

After the Procedure

You will be given an antibiotic that you use for the first week. You may use pain medication to ease soreness of the site. Expect minimal pain following the implant placement. You will need to eat soft foods and strenuous activities for about a week.


Caring for Dental Implants

Dental implants are versatile restorations, they cannot get cavities.

However, you can get gum tissue disease within the implant location, so make sure and protect both the teeth and the implants by brushing and flossing daily. Visit us for regular dental checkups.

Dental implants offer many benefits such as restoring chewing ability, preserving the facial structure, and promoting mouth cleansing. It is easier to clean teeth when you have dental implants.


Schedule a Dental Implants Consultation in Athens, GA Today!

Learn more about these restorations. Contact our implant placement team at Singing River Dentistry by calling (256) 293-5393 to request an appointment.