Oral Cancer Screening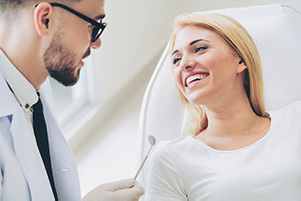 Recent estimates for cancer of the oral cavity show that there have been 54,000 new cases diagnosed every year and about 11,230 deaths occurring annually, according to the American Cancer Society. At Singing River Dentistry, we are committed to ensuring that we help people beat and prevent cancer of the mouth. As dental professionals, we know that we are the most privileged people to access and check the mouths of patients compared to other healthcare professionals. We see patients twice a year for routine dental exams and cleanings, where we are able to conduct oral cancer screenings. Additionally, we see patients more often, especially those with pre-existing oral conditions such as gum disease, meaning we may be able to catch signs of oral cancer when inspecting the mouths for gum disease.


Why Be Screened for Oral Cancer?

Many people ask why they should be screened for cancer of the mouth. The simple answer is that screening helps catch the disease early on. Treatment of cancer is much easier when the disease is detected earlier. Early detection would mean less treatment. It also would mean you spend less time recovering. Cancer screening allows our dentist to find cancer before the symptoms begin to appear when it is much easier to treat. When left to progress, cancer becomes difficult to treat. The earlier the detection, the better since it increases your chances of surviving.


What Oral Cancer Screening Involves

Our team will check your mouth for signs of irregular tissue. We look for visible symptoms such as hard lumps, changes in teeth position, white or red bumps, rough patches, ulcerated areas, or swelling and discoloration. Much of the oral cancer screening involves visual inspection of the mouth. Nonetheless, we also conduct palpitation of the cheeks and interior of the mouth.

We also feel the cheeks and the areas inside the mouth to see whether there are any unusual or hard masses of tissues. Oral cancer invades all the parts of the mouth, meaning that an examination for the disease needs to be comprehensive. An oral cancer screening is a gentle exercise, so you should not get worried about feeling discomfort during the procedure.


How Frequently to Be Screened

Our team recommends that you make a trip to our office for oral cancer screening every year. Annual screenings are designed for patients considered to be in high-risk groups. Often, we perform screening for oral cancer during your very first exam with us. If you have been using another dental office than ours in the past for your checkups, exams, and treatments, and you come to us, we will do your first exam to obtain your medical history and the status of your mouth.

During that first examination, we will inspect your mouth for oral cancer. Based on the risk factors you show, and from what we see, then we are able to suggest the frequency of cancer screening exams. Otherwise, whenever you come in for regular six-month exams and cleanings, we will also check for signs.

Schedule your oral cancer screening appointment today with our team at Singing River Dentistry. Call us at (256) 293-5393 to request the appointment. Take control of your oral health today.