Porcelain Crowns in Athens, AL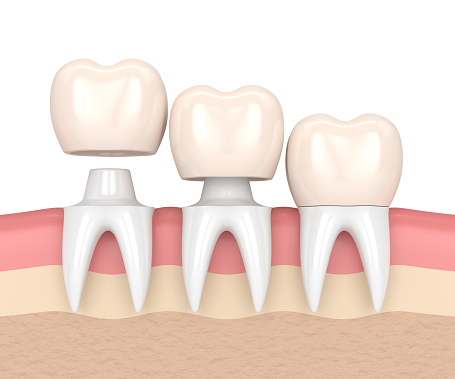 A porcelain crown is among the most popular dental cosmetic procedures to restore severely damaged teeth. Porcelain is a popular material for crowns for its hue that complements the natural shade or color of teeth. The prosthetic is a durable ceramic material. You can expect it to last up to 10 years. If you have cavities, our oral specialists at Singing River Dentistry, will first recommend other methods to fill the gaps. But when treatment with amalgam fillings fails, our dentist will suggest porcelain crowns. A dental crown is usually the best option if you have had multiple fillings.


Porcelain Crown Treatment Process

Before placing the crown, our dentist will perform tests to determine the condition of your teeth. Once the specialist confirms your teeth are healthy enough for the procedure, they will prepare the surface for placement.

The dental specialist will then remove a layer of the tooth to ensure it fits precisely. A mold records the impression of the mouth to create a comfortable crown. The dentist will also choose porcelain material that complements the natural shade of your enamel. The specialist may provide a temporary crown to place on your tooth as you wait for the permanent crown. Once the permanent crown is ready, our dentist will place the permanent prosthetic over your teeth. You may need some adjustments to ensure a proper fit. Dental cement is often required to secure the crown permanently over the damaged tooth.


When to Get Dental Crowns

Dental crowns can address crooked or chipped teeth. Since they feel and look natural, they are an ideal option where teeth whitening is necessary. The porcelain cap can conceal the unsightly stains on your teeth. A specialist may also pair an implant with a porcelain crown to mimic the function of your teeth. An implant is a prosthetic positioned into the jawbone after tooth extraction. They work together to restore your ability to chew and improve the appearance of your tooth. But you can still place a crown without an implant to address fractures and chipping.


Benefits of Porcelain Crowns

The primary benefit of a porcelain crown is that it protects your teeth from further wear and tear. Porcelain is a highly durable material that dentists can shape to fit precisely over the tooth. That way, you avoid additional chipping on the tooth with fractures and cavities. Another benefit of porcelain crowns is that they blend in with the teeth. Metallic prosthetics made of silver or gold are usually more conspicuous. The ceramic material is hardly noticeable even under bright light.

Porcelain is also an inexpensive option compared to alternatives like silver and gold crowns. Even though the dental resin is cheaper, it is not as strong as porcelain. Therefore, porcelain offers the best value for your money.


Porcelain Crown Care and Maintenance

After the procedure, our specialist will provide some care tips to ensure the porcelain lasts. Observe oral hygiene by brushing and flossing daily. Avoid sticky foodstuffs like chewing gum or candy to prevent dislodging the crown from its roots. Keep your dental appointments to allow our specialists to evaluate the dental prosthetic for complications.

Consult our specialist at Singing River Dentistry for more information on dental crowns. Call (256) 293-5393 to schedule a dentist appointment today.